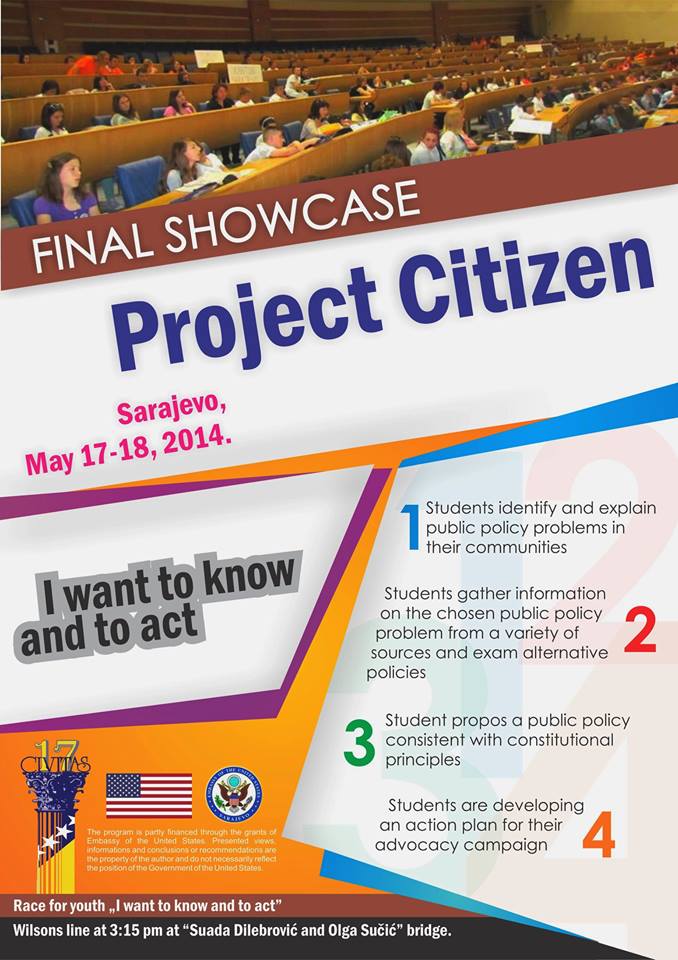 On May 17, 2014. Center for Democracy and Human Rights Education "CIVITAS" will bring together 300 civic education teachers and students from all over the country to a two-day Final showcase of Project Citizen (PC) competition, the only academic exchange at the state level in our country. Opening Ceremony will be held in Parliament Assembly of Bosnia and Herzegovina and will include promotion of sixteen elementary and sixteen high school teams (each composed of 8 students and 1 teacher) winners of Project Citizen cantonal/regional and District of Brcko competitions. After the Opening ceremony students will attend race for youth "I want to know and to act", organized with the aim to raise awareness about the importance of considering youth as partners in decision – making processes.
Project Citizen is implemented as a part of official curricula and only common part of school programs all over the country that provides students with a variety of research and communication skills, teach consensus-building and teamwork and enhance students feeling of worth and usefulness as community members. Program is implemented in DHR classroom and includes 35,000 students annually. The results of students work are displayed in a portfolio which enters competitions at school, municipal and cantonal/regional/district competition. The primary goal of Project Citizen is to develop in students a commitment to active citizenship and governance by providing the knowledge and skills required for effective citizenship, fostering a sense of competence and efficacy through practical experience and developing an understanding of the importance of citizen participation.
DRAFT AGENDA
 Saturday – May 17, 2014                                                   
11:00 – 12:30             
Arrival and Registration of participants
Parliamentary assembly of Bosnia and Herzegovina
 12:30 – 13:00         
Opening ceremony
Welcome and opening remarks
 13:00 – 13:15             
Award ceremony: Acknowledging Mr. Thomas E. Mesa, US Embassy Public Affairs Officer for his professional and personal    contributions for institutionalization and quality improvement of civic education programs in Bosnia and Herzegovina
 13:15 – 14:15            
Project Citizen as the only academic exchange at the state level
Winning teams present their PC learning experience   
 14:15 – 14:45             
17 years of Project Citizen Program in Bosnia and Herzegovina
Ivana Kesic, CIVITAS program manager
 14:45 – 15:00             
Award ceremony – part II: Annual Award of appreciation for planning and implementing PC municipal and    cantonal/regional/district competitions: This award will be given to Civitas coordinators and associates.
 15:30 – 16:00            
Race for youth at Wilson's Lane
Organized with the aim to rise awareness about importance of considering youth as a partners in decision – making   processes
 16:00 – 16:20            
Race Award ceremony
Winners will be awarded in 4 categories: male/female elementary and high school winners
Mr. Thomas E. Mesa, US Embassy Public Affairs Officer will  award winners with medals.
All participants will receive certificates for participation
 16:30                         
Returning to the hotel
 19:00                         
Dinner and reception in honor of the Project Citizen Finals
Hotel Hollywood Ilidza
 Sunday – May 18, 2014
08:15 – 08:30            
Orientation session
 08:30 – 11:00            
Hotel "Hollywood", Ilidza 
 Concurrent activities
Workshops for students
Participation in decision making processes through Youth- local  government partnerships
 Workshop for teachers
The sustainability of civic education in Bosnia and Herzegovina through continuous improvement of teaching approaches, practices, tools and resources
 Portfolios display in the Sport hall of Hotel Hollywood
Each project portfolio should identify 
the problem selected and why it was selected
alternative policies
the policy selected and why it is constitutional and the best solution
an action plan
reflections about the process and what was learned and a backup digital binder with research, letters, etc.
 11:30 – 12:00             
Awarding students and teachers with PC finals Diploma
Closing remarks
 13:00 – 13:30            
City tour