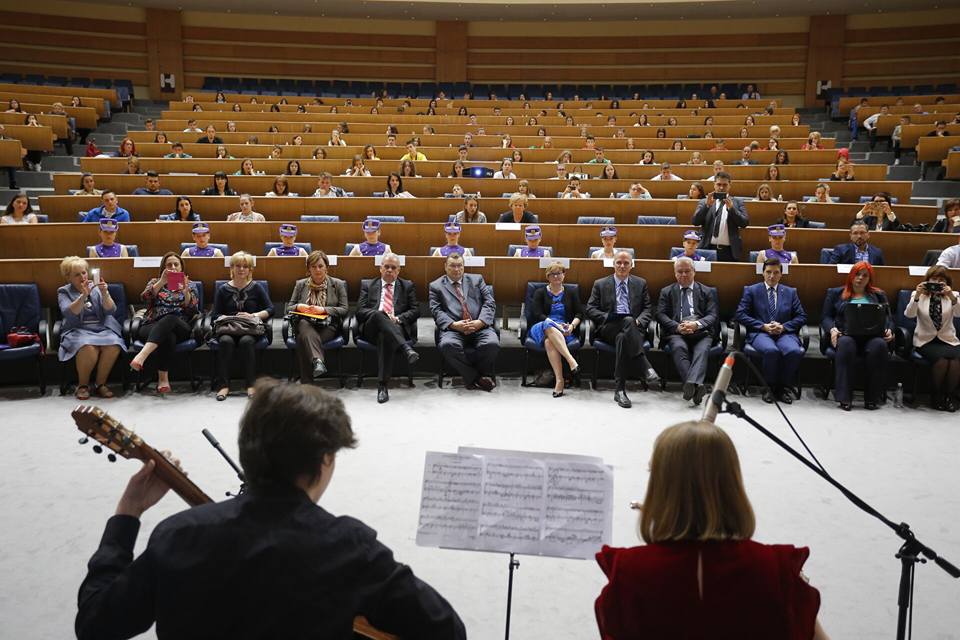 Ivana Kešić, CIVITAS program manager reported on last weekend Project Citizen Final Showcase hosted by CIVITAS, US Embassy Sarajevo Office for Public Affairs and Bosnia and Herzegovina state-government Ministry of Civil Affairs.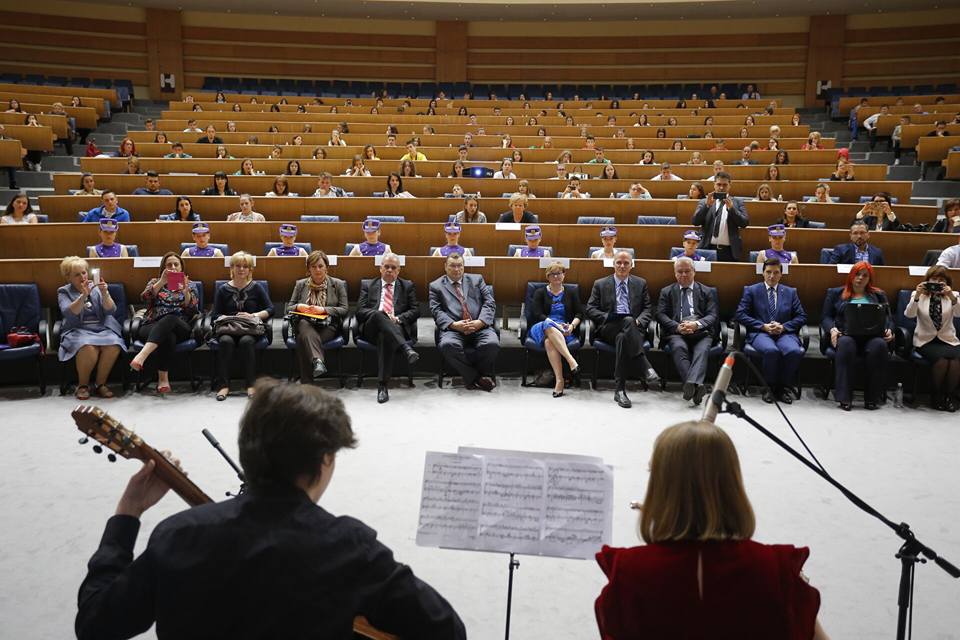 372 students, teachers and young artists from thirty-five elementary and high school teams throughout Bosnia and Herzegovina presented their Project Citizen public policy portfolios at the 20th annual national showcase event organized on May 20-21, 2017 in the Parliament of Bosnia and Herzegovina.
Mr. Paul Horowitz United States Deputy Chief of Mission joined the students at the showcase's opening ceremony.
Ms. Leah Pease, head of US Embassy Office for Public Affairs and Rahela Dzidic US Embassy educational specialist attended the Opening in company of Mr. Adnan Husic, state-level government deputy minister of Civil Affairs, Mr. Predrag Damjanovic head of Republica Srpska Pedagogical Institute, Ms. Zoran Matosevic, deputy minister in Middle Bosnia Canton and pedagogical advisors from Federal Ministry of Education, cantonal and entity pedagogical institutes from Sarajevo, Mostar and Trebinje. Program ended with outdoor public promotion and workshop for students and teachers.
On the second day of the Finals students evaluated the work of their peers, and Mr. Drew Giblin US Embassy attaché for culture and education joined them during this networking time.
Over the past 20 years more than a million students in Bosnia and Herzegovina have participated in Civitas BiH's civic education programs established in 1996 as a joint initiative of the Center for Civic Education, the United States Information Agency, and the Council of Europe. Curricular materials developed and adapted by Civitas BiH, including Project Citizen, are the only materials in the official curricula implemented with all ethnic groups in elementary schools and high schools throughout the country.
The primary goal of the program is to develop in students a commitment to active citizenship and governance by providing the knowledge and skills required for effective citizenship, fostering a sense of competence and efficacy through practical experience and developing an understanding of the importance of citizen participation. Program focuses on the role of state, entity, cantonal and local government system. The curriculum involves an entire class of students in a series of structured, cooperative learning activities which are guided by the teachers. Working in cooperative teams, the class learns to interact with their government through a five step process that includes: Identifying a public policy problem in the community; Gathering and evaluating information on the problem; Examining and evaluating solutions; Selecting or developing a proposed public policy and Developing an action plan. Students' work is displayed in a class portfolio containing a display section and a documentation section.
Every year more than 3.000 classroom teams present their portfolios at school, later municipal, cantonal/regional Project Citizen Competition. Winning teams have the opportunity to present their public policy proposals in Bosnia and Herzegovina Parliament Assembly.
CIVITAS in-school civic education in Bosnia and Herzegovina is funded by the US Government.